New Technology to Serve You Better
New Technology to Serve You Better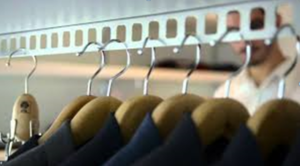 Let's be honest. When you drop off your clothes and walk out the door, you worry. You worry that you won't get all your garments back and you'll end up with someone else's hot pink sweater instead of your Burberry raincoat. You worry that your garment will be lost or that your cleaner will put it in the wrong bin and it will be ruined forever. We believe you shouldn't worry when you entrust us with your garments and here's how we guarantee it.
With our new automated assembly system from Metalprogetti, we guarantee your garments will be returned directly to you after cleaning. We assign each of your items with a personalized barcode for tracking throughout the cleaning process. After cleaning, they are electronically sorted and returned safely to you. If for some reason our cleaning process takes longer than originally promised, you'll receive your order free of charge, delivered directly to your home or office for your convenience. And in an even greater effort to remain environmentally conscious we utilize garment bags cut to size. We know that one size doesn't fit all and we tailor our bags to fit your garments, using less poly material for less waste.
Here at Sir Galloway Dry Cleaners, we work to provide you with the highest level of customer service and we promise to continue to find new ways to serve you better. So trust us with your most treasured garments and we guarantee to be ready on time, deliver your garments ready to wear, and promise to always have friendly and knowledgeable customer care.