Archive for November 2015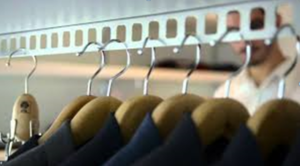 Let's be honest. When you drop off your clothes and walk out the door, you worry. You worry that you won't get all your garments back and you'll end up with someone else's hot pink sweater instead of your Burberry raincoat. You worry that your garment will be lost or that your cleaner will put it in the wrong bin and it will be ruined forever. We believe you shouldn't worry when you entrust us with your garments and here's how we guarantee it.
With our new automated assembly system from Metalprogetti, we guarantee your garments will be returned directly to you after cleaning. We assign each of your items with a personalized barcode for tracking throughout the cleaning process. After cleaning, they are electronically sorted and returned safely to you. If for some reason our cleaning process takes longer than originally promised, you'll receive your order free of charge, delivered directly to your home or office for your convenience. And in an even greater effort to remain environmentally conscious we utilize garment bags cut to size. We know that one size doesn't fit all and we tailor our bags to fit your garments, using less poly material for less waste.
Here at Sir Galloway Dry Cleaners, we work to provide you with the highest level of customer service and we promise to continue to find new ways to serve you better. So trust us with your most treasured garments and we guarantee to be ready on time, deliver your garments ready to wear, and promise to always have friendly and knowledgeable customer care.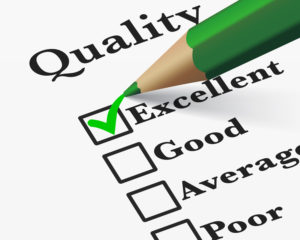 Moving to a new city? There is always a laundry list of things to get done after your move but we think your laundry shouldn't be on that list. Here are 5 things we think you should look for in a dry cleaner.
Customer Service: Look for a company that puts you first! Customer care plays a major role in your satisfaction of a company. We will always work to make you feel valued because we know that great customer service starts with upheld promises.
Green Dry Cleaning: Find a company that cares for the environment. Eco-friendly dry cleaning services are important not only for keeping our environment clean but also for providing you with a safe and residue free clean for your garments.
Expertise: We understand that your clothing is important to you and it takes trust to leave the cleaning to us. Choose a company that has years of experience under their belt and trained professionals that understand every detail of the dry cleaning process. We offer many other convenient services, including wedding dress restoration and specialized alteration services in addition to dry cleaning, to provide you with well-rounded expertise.
Convenience: Does your dry cleaner offer free pickup and delivery? We think that your dry cleaning shouldn't be a worry. Pickup and delivery are a just a small fraction of the convenient services we offer, making dry-cleaning a stress free process for you.
Quality of Work: Choose a cleaner that takes care in cleaning your garments. Your clothes should come back feeling and smelling fresh and ready to wear, without any residue or chemical odors. We suggest using a test garment when trying a new cleaner to be certain the garment is cleaned to your standards.
Whether you're moving or just haven't found a preferred dry cleaning service yet, use these tips to find the best cleaner for your needs. Happy searching!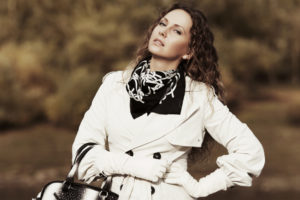 As the saying goes, "Life's not about waiting for the storm to pass. It's about dancing in the rain." Although this quote may have a more metaphorical message, we think everyone SHOULD take an opportunity to literally dance in the rain. This means, you may need to pull out that raincoat from the back of the closet to be cleaned.
Even if your coat only sees the outdoors on rainy days, it should still have the same level of cleaning care as your favorite items. Gone are the days of drab raincoats, now there are an endless variety of bright styles in an array of fabrics, allowing your raincoat to play a more stylish role in your wardrobe. Here are a few of the fabric trends in outwear from the past few years and the specialized care they require:
Brushed Cotton: This type of fabric is used to create softer, less bulky looks for outerwear. While it contributes to a more stylish look, it can also show wear quickly. Washing brushed cotton in a traditional washing machine can speed wear and tear and make your outerwear garments look older more quickly.
Water Repellant Finishes: Most rainwear has varying degrees of water repellant finish to keep you dry and cozy in wet weather. When exposed to traditional washing techniques this finish can break down and crack, making your trusty rain jacket less reliable.
Decorative Trims: As rainwear has become more stylish, designers have begun adding decorative trims to garments. It can be difficult to achieve a full cleaning of your outerwear pieces without damaging the trim in a washing machine. Save yourself the time of hand washing your rain jacket and drop it by the dry cleaners.
Dry cleaning will keep your raincoat looking spotless during both the rain and shine. Our specialized processes keep the unique fabric of your jacket in its best condition while providing the highest quality clean possible. So stay dry during rainy days and keep your rain jackets looking like new for years to come.