Archive for September 2015
We are excited to announce that we are again working with Camillus House to help those in need in Miami. We hope you will support us in our mission to donate clean and lightly worn clothes this year. We have conveniently arranged for you to drop off your items at any Sir Galloway location. The deadline for pickup is Friday, October 1st, 2015. You can download the tax deductible donation receipt at this link.
Camillus House is the best place to donate your clothes! They have grown steadily over the years from a small group kitchen into a full-service center offering a comprehensive system of care for the poor and homeless- a seamless, step-by-step process designed to bring persons from a life on the streets all the way to permanent housing. You learn more about Camillus House here.
So start exploring your closets for the hidden treasures you haven't worn in a year or so. Remember that giving is always in fashion and we appreciate your donation.
Oscar Wilde so wisely said, "A well-tied tie is the first serious step in life."
We believe an expertly cleaned suit is an even greater step to a professional appearance and elevated career mojo. The suit demands and portrays respect. A well cleaned suit could make a great first impression or seal the deal in an important meeting. But suits don't only apply to business. For any special occasion like a wedding or charity gala, your suit can set the tone for a great event.
That being said, caring for your suit properly, in between cleanings, is essential. We will do everything we can do make your suit look it's best, but with these three tips you can extend the lifetime of your suit and prevent irreparable damage in the long run.
Tip 1: Don't Treat Stains. If you stain your suit, your first action should be to take it straight to a professional. Do not try to treat a stain yourself. You may cause more damage or make a stain permanent. Read here for the full list of DON'T's when it comes to stain treatment.
Tip 2: Hang Your Suits. Do not fold your suit or lay on a surface. Hanging the suit, allows the fabric to recover from being worn and the pull of gravity can take out most wrinkles. Make sure the pockets are empty to avoid odd shapes in the suit.
Tip 3: Cover Your Suit. Use a cloth cover to prevent stains and allow the air to circulate through the suit even when it's stored.
Follow these tips and your suit will provide many years of use. Don't forget to professionally clean your suits with . Sir Galloway. We are Miami's experts in suit cleaning and will do our very best to keep you looking sharp for your business and personal events.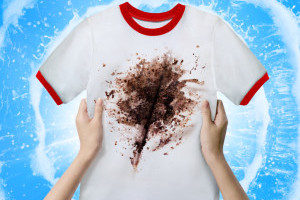 Stop! Put down the stain remover. Before you try to fix another stain, let's talk about how you could be making matters worse, plus the BEST action you can take to treat a stain.
The first biggest mistake most people make when it comes to stains, is trying to treat the issue without knowing the proper way to handle it. Every stain and every garment is different, which means the way to treat them is different as well. What may work for one stained garment could ruin another.
Here are 5 mistakes you should avoid to save your garment from stains:
Don't Wait. The longer you let the stain set, the more difficult it is to get out.
Don't Scrub: Your precious garments should be handled with care.
Don't Heat: Hot water can bond the stain to the fabric.
Don't Mix: Using several different chemicals and soaps can create a concoction of disaster for your garment.
Don't Test: Testing a new stain removal product on your garment is always too risky.
So what should you do? Our recommendation is to take the garment straight to an expert as soon as you possibly can. At Crest, our dry cleaning staff has the knowledge and experience to treat your garment stains correctly and quickly. Although we cannot promise to fix every stain, we can guarantee that we will do our best to help your garment look new again!