Sleep Sound with These Bedding Care Tips
Sleep Sound with These Bedding Care Tips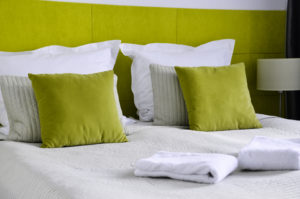 Bedding can be quite an investment. Knowing the proper way to care for your bedding will bring you years of use for your favorite linens. Here are our tips:
•Dry Cleaning: To prevent shrinking, wrinkling, and other laundry problems it is best to dry clean your blankets bedspreads and comforters. Bedding often has backing, shell fabric, decorative features and stitching that all react uniquely when it comes to washing and care. Washed at home, bedding can often shrink or pucker, leaving the final product that may be clean but less attractive. Bring in your bedding in to us for a quick, professional cleaning.
•Don't Eat in Bed: It's tempting to curl up to a movie and bowl of popcorn in bed, but no matter how careful you may be crumbs and drips always seem to find a way onto bedding. Many times bed linens are made from fabrics and materials that make it difficult to spot treat. Save yourself the trouble of stained or crumb filled bedding and keep snacks away.
•Upgrade Bedding: Create a comfortable place to rest. Using higher quality linens allows for more comfort at night for more refreshed mornings. When searching for new linens, look for fabrics that are breathable and allow easy airflow. If you have concerns about allergens, organic cotton or linen-cotton blends without dye are great options.
•Comforter Cover: If your comforter is not overly decorative or ornamental, use a comforter cover. It will protect your bedding from wear and is easier to clean as it is smaller and less bulky than a full comforter, protecting you from allergens and dust.
•Wash Schedule: Nothing beats the feeling of fresh sheets. Creating a washing and care schedule for bedding linens keeps dirt and dust from making a permanent home in your bed. If your pillowcases are brightly colored or patterned wash them inside out to preserve color longer. In addition, washing sheets in warm, not hot, water will help to reduce shrinkage.
•Pillow Talk: The right pillow can make all the difference in the world when it comes to a restful nights sleep and when you find the perfect pillow you want to keep it for years. A pillow cover will protect your pillow from dust and stains while still maintaining comfort. In addition, regular wash cycles for your pillow will keep them fresh and fluffy.
Here at Sir Galloway, we provide expert dry cleaning services to keep your beautiful bedding bright and cozy for years.