Welcome to the new sirgalloway.com
Welcome to the new sirgalloway.com
We are very excited to announce the launch of our new website at sirgalloway.com. You're already here reading this post, so chances are you've already browsed around. We'd like to share some of the key features of our new site – actually, sites! Because Sir Galloway Fabric Restoration, our sister company, also got a brand new website. Developed in conjunction with our marketing agency of record, A+S Ideas Studio based in Miami, Florida, the new sirgalloway.com was created with the latest & greatest in terms of Web technologies, an elegant yet contemporary look & feel that is a reflection of the Sir Galloway brand, and great ease-of-use measures with our existing and potential customers in mind.
The site provides everything these is to know about Sir Galloway Cleaners in an attractive and organized manner. Information about our services is easy to find, and further inquiries about any of our services can be submitted from any page. Visitors can also request our price list from most of the site's pages.
Our six convenient locations are also very prominent on our new site, with a useful page for each location that includes hours of operation, customer service specialists' names and contact information, and an interactive map that makes finding and printing directions very easy, without even leaving the page.
Sir Galloway Cleaners also offers a very convenient and FREE pick-up & delivery service. Signing up for it on our new site is a snap! Curious about our pick-up & delivery coverage area? We've got you covered via an interactive map.
And of course, you can learn more about our company, our philosophy, and our corporate social responsibility commitment in the About Us section.
We value your opinion
Sir Galloway Cleaners has always made top notch customer service its priority, and the opinions of our customers are crucial in keeping us on our toes and improving our services. That's why we equipped our new website with a convenient Reviews section, where customers can quickly write a review of their store or pick-up & delivery route, or Sir Galloway's operations in general. These reviews not only give us valuable feedback of how we're doing, they are also very useful for discerning potential customers who are doing their research. That's why we don't just offer the ability to write and read reviews on our site, we also provide the links to all of our stores' listings on prominent review sites such as Google Places, yelp and yp.com.
How easy is it to review Sir Galloway cleaners? See for yourself!
On the go?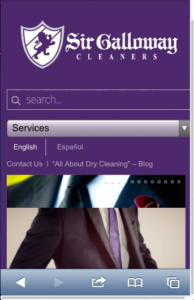 If you're on the go – like most of us are nowadays, you'll be pleased to know that our new sites are completely mobile & tablet friendly… yet we didn't sacrifice (like it happens sometimes) on content or functionality.
Our sites "automagically" adapt to all screen sizes, so you can have the same great experience on your computer or smartphone, without having to put on your reading glasses or fetching for a magnifying glass. If you're reading this post on your mobile device, you already know what we mean.
We will continue to develop and improve our websites, as part of our commitment to quality and excellence in everything we do.
Let's get social
We're also aware that our customers spend some of their valuable time on social media channels such as Facebook, Twitter, LinkedIn, and the like. That's why we integrated our own social media channels into our new sites, and we made it very easy for our visitors to share any content or page with others via social media. Notice the sharing buttons at the bottom and left of this post – and all other posts and pages on our site, for example.
En español
Si el idioma de su predilección es español, el sitio Web de Sir Galloway Dry Cleaners está disponible 100% en español. Todas las páginas del sitio han sido traducidas profesionalmente al español, para que nuestros clientes y visitantes de habla hispana tengan una experiencia que nada tiene que envidiarle a nuestro sitio Web en inglés.
Actualmente estamos en el proceso de traducir nuestro blog, para ofrecerle consejos útiles y noticias sobre sus tintorerías favoritas en su idioma.
Say what? In a nutshell, all pages in our new websites are professionally translated into Spanish (and we're in the process of translating our blog). We are keenly aware of the cultural diversity of our clientele, our employees, and the communities in which we operate, so offering a complete translation of our website wasn't just a "nice to have," it was an obligation.