A fresh new look + the quality and service you've come to expect
A fresh new look + the quality and service you've come to expect
If you're a customer of our main plant located in the Falls warehouse area, or simply drive by SW 87th Avenue and 130th Street, you will notice something new… our new look! We gave our main plant/store a fresh coat of paint (just the right shade of grey) coupled with brand new purple awnings.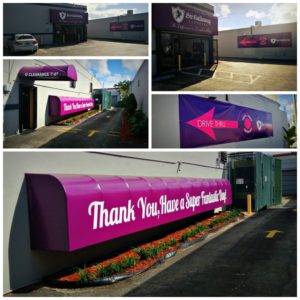 Although it's a new look for this location, it's actually consistent with our other locations and pickup & delivery vans, as well as the branding and marketing materials we have been developing over the course of the past 12 months.
We are proud of the Sir Galloway Cleaners brand, which we have built throughout the years through our commitment to excellence and customer service. The remodeling of our main plant is another tangible expression of our brand values and consistency.
Inside the store you will continue to find the convenient, professional and friendly service of our Customer Service Specialists, Mabel (in the mornings) and Mercedes and Rosalba (in the afternoons). And behind the counter, Sir Galloway's state of the art equipment and dedicated experts who ensure quality, punctuality and precision in every job.
Check out the pictures below to see our main plant's new look and, better yet, stop by and visit us!